Jackie Kennedy Onassis was a style icon. Beautiful, sophisticated, elegant and refined – and that's matched by her childhood home. The house at which she spent her most carefree summers is on the market for a cool £43.5m. And with the movie, Jackie, a drama about the former First Lady, currently making the rounds of the film festivals, it is sure to get a lot of attention in the coming weeks.
The 11-acre estate in East Hampton was used as a summer retreat by the Bouvier family in the 1920s. Long Island was – and still is – the fashionable place for New Yorkers to have a country escape. Away from the city heat, they built their dazzling mansions of the type favoured by Jay Gatsby. Lasata, a native American word for Place of Peace, is indeed an oasis. It's been put up for sale as two lots – the house, guest house and seven acres for £31m and a four-acre plot for £12.5m.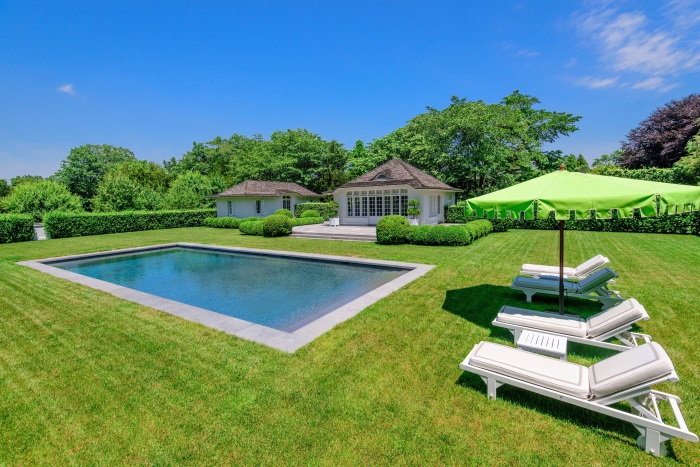 © Brown Harris Stevens of the Hamptons
The main house is a rambling Arts and Crafts style home built in 1917. The current owners are Reed Krakoff, the former creative designer at Coach, and his wife Delphine, an interior designer. They have restored it in accordance with its jazz-age heritage and decorated it "as though it had been furnished over time". With their creative credentials you would expect the wow factor and this house certainly delivers that.
Pale décor, with splashes of sunny yellow, the interiors mirror the seaside and sunshine outside. The dark oak floors are a theme throughout, underpinning an understated elegance and a certain Puritanical minimalism, which echoes the area's historic past.
There are 10 bedrooms in the main house, plus a one-bedroom guesthouse. There are two further bedrooms in the pool house, so plenty of room for all the people who will want to visit this iconic property. The pool is heated, there's a three-car garage, vast lawns and a tennis court, although the latter is part of the smaller plot of land for sale. The beach is a short stroll away and the exclusive Maidstone Country Club is even closer.
The 10-year-old Jackie loved the place so much she wrote a poem: "When I go down to the sandy shore, I can think of nothing I want more than to live by the booming blue sea."