If you're struggling to get on the housing ladder, why not channel your inner Hobbit? You can now build your own earth home in three days for just £10,000.
The author JRR Tolkien is not often cited in connection with property websites. But back in 1937, in the opening lines of The Hobbit, he described Bag End, the home of the book's hero, Bilbo Baggins: "In a hole in the ground there lived a Hobbit." And nowadays, it seems, it's easier than ever to go down in the world.
While burrowing might seem more appropriate for hibernating animals than for humans at this time of year, there are many advantages to underground homes. As well as maximising space in small areas and mimimising visual impact on the environment, these are energy efficient. Natural earth insulation ensures that properties are warm in the winter and cool in the summer. If you supplement this with solar panels, your home could be well on the way to being energy self-sufficient.
There are a range of existing properties around to inspire you. Malator, for instance, is an earth house overlooking St Brides Bay in Wales. With its turf roof and round doorway, it is unsurprisingly known locally as the Tellytubby house. Inside, what is essentially a single room is divided up by prefabricated coloured pods. The floor-to-ceiling windows ensure that the rooms are filled with light – and have magnificent views of the surrounding Pembrokeshire coastline. Bespoke architecture like this doesn't come cheap, though: the build cost was approximately £1 million.
(http://ideasgn.com/architecture/house-in-wales-future-systems/)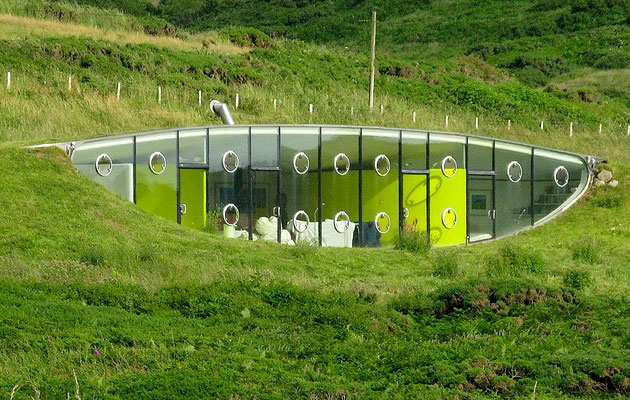 Villa Vals, meanwhile, is a holiday retreat dug in to the alpine slopes of Switzerland. Its design is reminiscent of a parabolic dish, resting against the hillside. Local materials were used both to ensure harmony with its natural surroundings and to be in keeping with the area's building traditions. The concrete interior, though, lends an unmistakably contemporary feel. If you fancy experiencing earth dwelling, you can rent this property, from £700 (€950) for a weekend (http://villavals.ch/).
Over on the Greek island of Antiparos, the long stone walls of Aloni allow this home to nestle between two slopes and to maintain the continuity of the landscape. The living spaces are divided by courtyards, one of which features a striking slope planted with bushes. It's as if the earth is coming to reclaim the space. Christies Real Estate are currently selling this for £1.4 million (www.christiesrealestate.com/eng/sales/detail/170-l-673-1305090401050427/aloni-antiparos-cities-in-cyclades-cy-84007).
Digging down is not confined to residential dwellings, either. Starchitect Zaha Hadid recently completed a clifftop museum for the climber Raymond Messner on the summit of Mount Kronplatz in South Tyrol. With its curved, glass-reinforced concrete, it looks like an ice shard has pierced the rock, and now protrudes majestically from each side. I wouldn't be surprised to see this sci-fi structure featuring in a future Bond film. (www.zaha-hadid.com/architecture/messner-mountain-museum-corones/
If properties such as these have you reaching for your spade, there's help at hand. Miami-based Green Magic Homes (www.greenmagichomes.com) has given traditional earth-sheltered construction a 21st-century twist. Their arched structures, made of prefabricated, fibre-reinforced polymer, come in modular components, offering numerous possibilities to customise the design of your home. There are even sand-covered options for desert climes. Or combine eco living with Good Life-style sustainability, by planting your own fruit and vegetables on the roof. Prices start at £10,000 ($15,000) for a 400 sq. ft., one-bedroomed 'Waikiki' studio; a four-bedroom 'Mediterraneo' house, meanwhile, which covers 1,900 sq. ft., will cost in the region of £45,000 ($66,500), depending on individual specifications. To which, of course, you must add the cost of the land.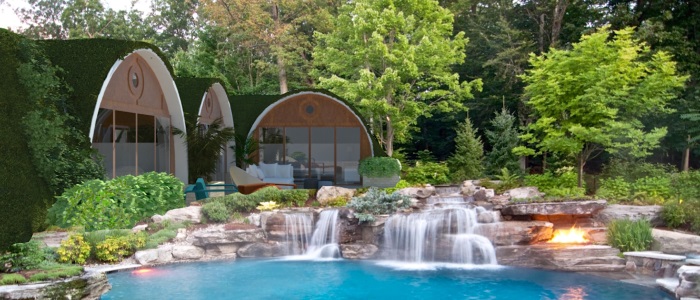 A word of warning, though – check with your neighbours before building your very own hobbit-hole. "And," as Tolkien observed, "that means comfort".
BUILD YOUR OWN UNDERGROUND HOME
1. Employ the right architect. Underground buildings present unique challenges: seek expert advice. Useful websites include: aselfbuild.co.uk and earthshelter.sustainablesources.com
2. Contact the relevant planning department (in the UK, planningportal.gov.uk) and investigate rules for building underground, in terms of structural supports, waterproofing, ventilation, draining and so forth.
3. Commission a thorough survey to determine factors such as ground water levels and slope stability. As well as to confirm that there is nothing running through your proposed site: moving gas pipes, electricity cables or sewage outlays could send your budget soaring.
4. Ensure that the orientation of the building maximises light through south-facing windows.
5. Don't skimp on moisture control and ventilation systems: these are crucial, to control indoor air quality and humidity. The Association for Environment Conscious Building (aecb.net) gives advice on this and other factors.
6. For more information, read Earth-Sheltered Houses: How to Build an Affordable Underground Home by Rob Roy. And for inspiration, visit theundergroundhomedirectory.com