© Berkshire Hathaway HomeServices California Properties
Crooner and film idol Frank Sinatra had a remote retreat built in 1967 in the highlands outside Los Angeles. For $3.9m (£3.2m), you can now own this party pad, where the king of the hill and his Rat Pack lived the high life, well away from the eyes of the world.
Sinatra named his desert hideaway Villa Maggio, after his character in the 1953 film From Here To Eternity. He won an Oscar for his role as Private Angelo Maggio and had reason to remember the movie fondly. This box-office hit helped to relaunch his film career.
He had the property specially built. As well as a retreat, Sinatra wanted to be able to entertain his friends. The main dwelling, a stone and wood lodge-style building, has five bedrooms, while three more are available in the guest house and a further two in an annexe. In the grounds there is a pool house with two saunas, as well as an outdoor swimming pool, a fire-pit and a tennis court.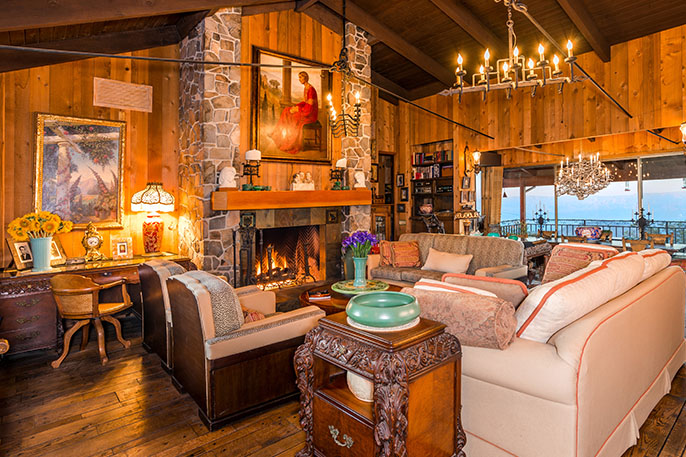 © Berkshire Hathaway HomeServices California Properties
Perched on a hillside in the San Jacinto Mountains, there are panoramic views of the Coachella Valley and Palm Desert to Palm Springs. There's parking for 24 cars and, of course, a helicopter landing pad for the Hollywood hierarchy.
It is being sold by Berkshire Hathaway Home Services (www.bhhscalifornia.com), whose agent Markus Canter said: "Sinatra specifically worked with architect Ross Patton to build a comfortable home where he could entertain his friends and family."
"There were some epic parties there with a 'who's who' list of celebrities," he added.
The current owners knew Sinatra from his performances at Las Vegas and have kept the original décor and film-star ambience. There even remains the 1970s audio-visual equipment that Sinatra left. Now planning to relocate to the coast, the vendors have dropped the price and added extra land to enhance the property. The estate now extends to 7.5 acres. It is approached by gated desert roads, so the new owner will enjoy complete privacy. Situated at 4,300ft above sea level, it is always about 20 degrees cooler than the valley floor.
Sinatra donated the property to Loyola Marymount University soon after he married his fourth wife, Barbara Marx. The college sold it in 1989 for $1.4m dollars, and the current owners bought it in the late 1990s. They hadn't planned to stay here so long, but as Sinatra sang in the 1944 film Anchors Aweigh, "We hate to leave."
Frank Sinatra's home is on the market for $3.9 million through Berkshire Hathaway Home Services (www.bhhscalifornia.com)