David Rockefeller, wealthy industrialist, philanthropist, bicyclist, youngest of six children born to Financier John Davison Rockefeller Jr, world renowned billionaire, banker, former Presidential advisor, confidant of world leaders and founder of the Tri-lateral Commission, has passed away at the ripe old age of 101, and now his Westchester Estate is on sale for $22 Million.
Everyone is aware of the Rockefeller name, even if they aren't explicitly familiar with the history of the family, and indeed; you'd be hard pressed to find another family that has demonstrably exercised more power and influence than the Rockefellers, never mind their immense estimated net worth.
David, youngest of six children born to John D Rockefeller Jr and Abby Aldrich Rockefeller, had an extremely colourful life that included serving in the US Army, working at Chase National Bank and building a vast web of influence through foreign relations, public services and philanthropy.
By the time of his retirement in 1981 David had earned a reputation as a global leader in all of these fields, with property owned all over the globe.
With his passing, however, various Rockefeller properties have gone on sale, with Hudson Pines being the latest.
Designed in 1938 by famous architect Mott Scmidt, this 11 bedroom Georgian mansion is situated some 45 minutes from New York City in a quiet, isolated location dotted with Oak and American elms near the Hudson River – and it's every bit as luxurious as you might imagine.
The property consists of 12 buildings, more gardens than you can shake a stick at, woodlands, a heated pool, three greenhouses, a private helipad, a stable for your horse (or all six of your horses…), a gatehouse, a wine vault, 12.5 bathrooms and various signature elements of Schmidt like a floating staircase and elegantly carved fireplaces.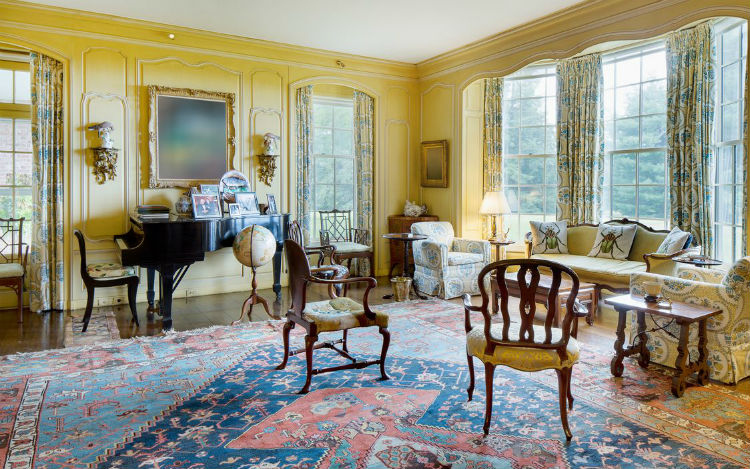 Also… in case you're one for the farm life, the property comes with Hudson Farms itself, which includes the animals, barn buildings and an entire mature apple orchard.
David Turner, a Listing Agent from Houlihan Lawrence, asserted that the property's eight-figure asking price is, (beyond the extreme opulence and acreage) due to the fact that as a Rockefeller house the property comes with a certain special reputation.
Turner stated:
'Hudson Pines represents the connection and collaboration between two icons, Mr. Rockefeller and Mr. Schmidt, which makes this such a special property.'
David Rockefeller himself also described how close to his heart the property was in a letter to the esteemed architect:
'It is both elegant and friendly, and fits perfectly into the landscape. I am happy … to tell you once again how much we have enjoyed living in it during the past quarter century'.
Various Rockefeller properties have gone on sale since David Rockefeller passed, including his Mount Desert Island Estate for a slightly cheaper $19 million.
All images sourced from www.townandcountrymag.com