House prices in the US have risen above their pre-crash peak, shutting the door on the worst period for the property market since the Great Depression.
The average house price in September was 0.1% above the 2006 peak. Adjusted for inflation, prices remain about 16% below that 2006 high point, but they have risen 5.5% over the past year.
The figures come from the S&P Case-Shiller national home price index.
"It's good news for homeowners out there, especially ones who were able to cling on to their homes," said Svenja Gudell, the chief economist at property research firm, Zillow. "They saw one of the biggest assets that they had lose a ton of savings."
"Personally I wouldn't be throwing confetti because my house is worth what I paid for it eight years ago," said Nela Richardson, chief economist at Redfin, a property broker.
But others are breathing a sigh of relief that things are finally returning to normal.
Seattle recorded the highest price increase, year on year, up 11%. It was followed by Portland, Ohio and Denver, Colorado.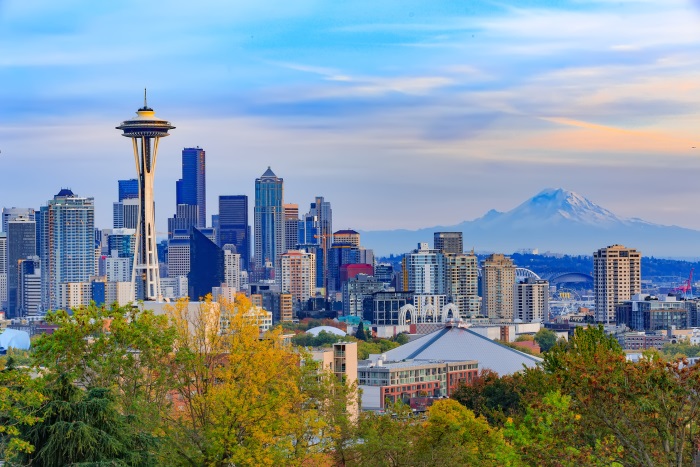 Seattle recorded highest price increase year on year
But the hottest markets are in San Francisco and Dallas, Texas, according to property website realtor.com. These show where demand is the highest and homes are selling the fastest. California has several other cities in the top 10, including San Jose and San Diego. House sales in San Diego were up 19% in November, but rising mortgage rates and a lack of property on the market are limiting further growth.
House prices have increased at a rate of 5.9% a year since 2012 while incomes are up just 1.3%. This makes it more likely that the current rate of growth is unsustainable.
"It's not clear with the degree of [economic] growth that we've had that we should have expected prices to rise this much," said Doug Duncan, the chief economist at mortgage company Fannie Mae. "We have a caution light on."
Nevertheless, experts are predicting house prices will continue to rise into next year. Although mortgage rates are increasing, they are still quite low by historical standards. The average 30-year fixed rate is currently 4.04%, up from 3.51% last month. The Mortgage Bankers Association says the average rate since 1990 is 6.41%.
The US economy is also seeing modest growth. "The employment picture has brightened considerably," said Bob Walters, the chief economist with Quicken Loans. "There is a ton of pent-up demand."
After a period of uncertainty, the worst appears to be over. The US property market is bouncing back.