There's a lot of talk these days about the 'home of the future'. People usually mean smart tech, such as a robot hoover, interactive lights, or fridges that can restock themselves.
But, contrary to the message of pretty much every Disney film in existence, it's not always what's inside that counts. Sometimes the outside matters. Put Amazon Echo into a Victorian townhouse and you've still got a very old house.
By contrast, there are some properties out there that look like you can only see them because of some kind of temporal rift between the future and the present. We've picked out four incredibly science-fiction looking homes to inspire you to think outside of the box when it comes to picturing your life abroad.
Unfortunately at the time of writing none of these properties is for sale. Although, considering the price tags associated with some of them, you might need to wait for the great housing price crash of 2168 before they fall into your price range anyway…
Shell House, Karuizawa, Japan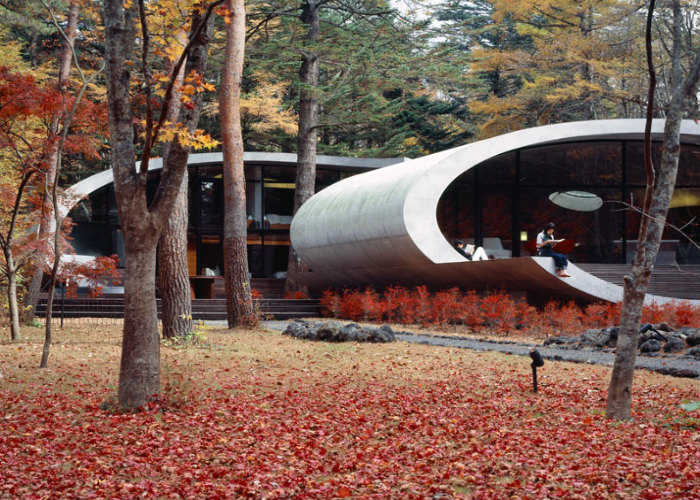 The Shell House, located in Karuizawa, Japan, is a holiday home that manages to slot perfectly into its surroundings – despite being vastly different. This mass of curving white shell and shimmering glass frontage seems so at odds with the greenery of the surrounding forest, yet it somehow ties itself in perfectly. The dark wood flooring, nearly the same colour as the surrounding tree trunks, is one aspect that helps anchor the building with the landscape, while a lack of many straight lines further enhances the natural feel of this odd but beautiful construction.
ARTechnic Architects, those behind the project, described it thusly;
'The scenery conjures a SF film-like image, in which locals inhabit over an abandoned spacecraft. With time, trees start to grow encircling the spacecraft, harmonizing it into the landscape.'
It was completed in 2008, but nearly a decade on still looks incredibly advanced. Indeed, some of its design features are still sophisticated by today's standards, including biometric locks, an antifreeze system in the air conditioning to prevent burst pipes, and a central control system that enables you to manage all electrical and mechanical equipment in the home with just three buttons.
Dupli Casa, Ludwigsburg, Germany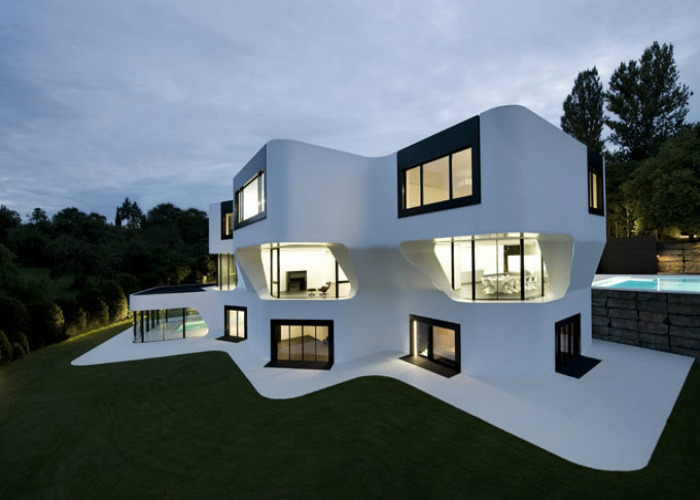 If MC Escher had wanted to build a property using only black shipping containers, glass, and fluffy white marshmallows, he might have come up with something like Dupli Casa.
Designed by J. Mayer H. Architects, Dupli Casa offers a splendid – if somewhat mindboggling – mass of curves and overhangs, largely as a result of being extended and modified over the years since its construction in 1984. The property was based upon the geometry of the house previously located at the sight – with more than a few artistic licences taken, of course.
Located on one side of the Neckar valley, the property offers stunning views across to the town of Marbach and the German national literature archive. The inside has the feel of a contemporary art gallery, with its large open spaces and clever solutions for bringing in natural light.
It also boasts both an indoor and outdoor pool, because imagine having to slum it with just one or the other?
Sleeper House, Colorado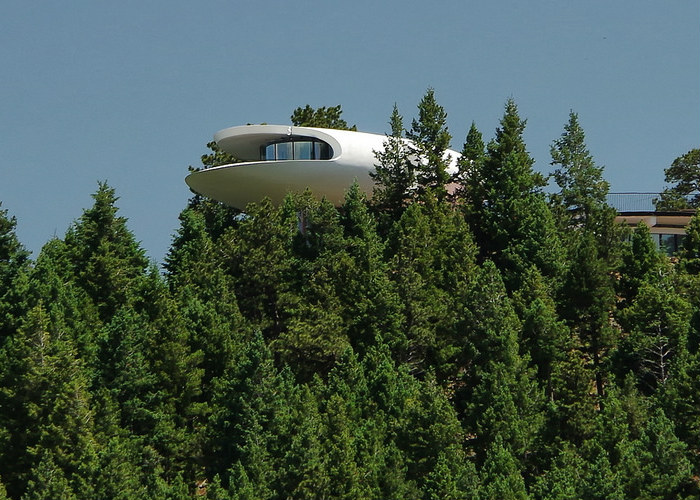 The Sleeper House, located on Genesee Mountain, Colorado, became famous after featuring in the Woody Allen Film Sleeper in 1973. It is very much a 60s idea of what the future will look like, back in a time where 2017 was viewed in much the same way we might think of the year 3000 (although not as Busted envisioned it).
Construction on this property, which is listed for its architectural merit on the National Register of Historic Places, began in 1963 and the exterior was completed in 1966. By this point, the total cost of the build had reached $100,000 – $759,220 in today's money. The architect, Charles Deaton, never finished plans for the home's interior, and the Sleeper House spent much of its life in a state of disuse.
It was sold at auction for $1.53 million in 2010 – just $230,000 higher than its purchase price eleven years prior and nearly -$2 million lower than the price paid by foreclosing owner Michael Dunahay. On the one hand we feel sorry for Dunahay, but on the other hand most of us can only dream of being able to afford to lose nearly $2 million, so…
Capital Hill Residence, Russia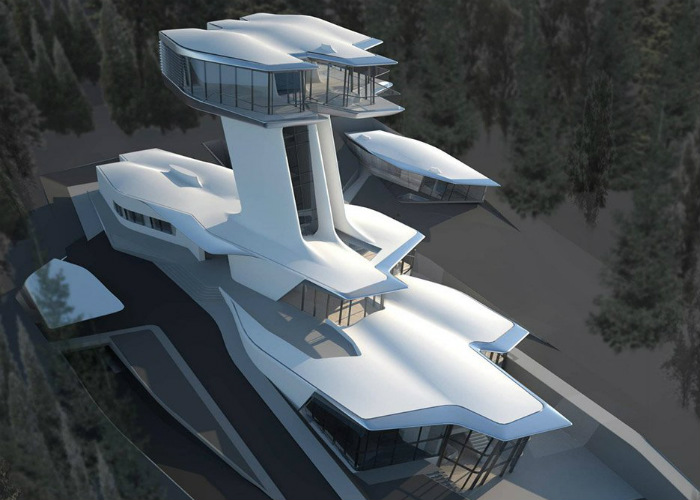 If you're a big fan of homes that look like spaceships, then you're in luck. Capital Hill Residence is a fluidly geometric home with a towering observation floor, which looks like it was conceived when the blueprints for the villain's spaceship in a Star Trek movie got superimposed upon a low-res photo of a swan.
It's owned by Vlad Doronin, a Russian real estate mogul, and was designed by Zaha Hadid. He supposedly built it for Naomi Campbell, whom he was dating at the time. Doronin has an estimated fortune of $1.5 billion, so is unlikely to feel that the US$2 million-plus project was a waste of money, even though he and Campbell are no longer together.
That slender observation tower – or bridge, as we can't help thinking of it – is designed to provide the best possible view in a forest where the surrounding pines and birches can reach up to 20 metres in height.
The science fiction theme continues inside, where everything is glass, steel, or white. Flowing curves taper to sharp points, the seating looks like it's out of a bar in Star Wars, and the bed seemingly floats above the ground. Unsurprisingly, a house this futuristic comes with a lift to the top, so you don't always have to brave the 13 flights of stairs to admire the view.
Why get a villa when you can have out-out-this-world?
Money could be the biggest barrier to owning your very own spaceship – we mean, science fiction home – abroad. But these homes represent a simple idea taken to the extreme. You don't have to spend millions on a stunning home that breaks the rules or defies conventions. Broaden your horizons and think past terms such as 'villa' or 'condo'. Hunt down those unusual properties and your move abroad will be even more special.
After all, who says a house has to fit in with the crowd?