© Fendi Chateu Residences www.fendichateauresidences.com
Designer brands are moving into residential developments. Already associated with deluxe hotels – think Karl Lagerfeld's Odyssey in Monaco and Louis Vuitton's Cheval Blanc in the Alps – now the world's most sought-after labels are building on their success.
Top-end fashion and accessories house, Fendi, is ahead of the curve, running its eye over some classy real estate. The luxury brand has expanded its horizons on the interiors of a glass-walled residential block by the sea in Florida.
The 12-storey building with its shimmering, wavy frontage was dreamt up by architects Arquitectonica (http://arquitectonica.com/) to mirror the curves of the Miami beach and its crystal-clear water. It contains 58 residences, each with a private elevator to its own foyer. The Fendi Chateau Residences (http://fendichateauresidences.com/public/index.html) are being snapped up by high-profile buyers, with one of the penthouse suites going to a New York investor for $21m recently.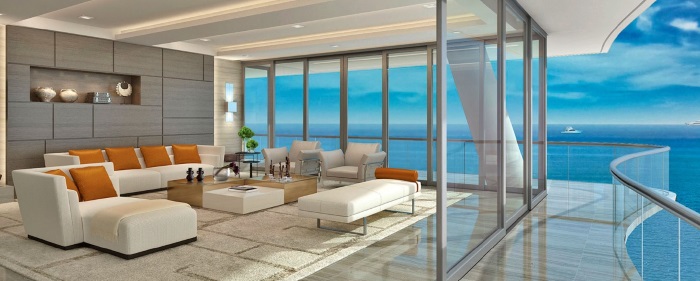 © Fendi Chateu Residences www.fendichateauresidences.com
The world's foremost design houses have been partnering hotel projects for years, but branching out into residential buildings is a relatively new concept. In London, Versace has teamed up with a Dubai-based developer, Damac International (https://www.aykonlondonone.com/en/projects/aykon-london-one) to create a tower block where buyers will pay up to £4m to live in a cool apartment – in Vauxhall, south London.
In 2015, when the Versace project was announced, Woody Bruce, a retail leasing specialist, said: "I expect rival [designer brands] will want to outdo Versace with even bigger and more flamboyant plans for homes … These models are a business win for both landlords and designers. Building owners get access to a host of potential buyers that are fans of a designer, while the luxury brand gets a revenue boost from winning the contract on the interior design job."
The 50-floor block of 360 "fashion residences" is due for completion in 2020. Damac is looking for more sites in London and Versace "is open to the prospect of doing further branded developments".
The concept has even inspired Aston Martin to link up with a developer on the Miami River. Their sail-shaped Biscayne Boulevard residential tower will feature interiors designed by the luxury carmaker, as well as an exclusive yacht marina. The marque's DNA will be incorporated through subtle detailing and fine craftsmanship, rather than obvious auto-specific touches.
So you can no longer be content with your Hermès scarf or Chanel clutch, now you can buy your own Fendi flat or Aston Martin apartment.