As French property prices drop to 2007 lows, English buyers are once again in search of bargains across the Channel.
There are three good pieces of news when it comes buying property in France. Especially if you are British.
The first is that France has roughly the same population as the UK (around 65 million), but is nearly three times bigger. This means lots more empty spaces and far-reaching views from your window.
The second, is that prices are still hovering around what they were in 2007. The latest report by Savills shows that property prices in December 2014 were 8.3 per cent down on their 2011 high, and property transactions were down by 14.6 per cent over the same period.
And the third is that you can choose the kind of temperature you want. Buy a place on the northern coast, and the weather will be much like it is in the UK. But the further down the country you go, and the nearer the Mediterranean Sea you get (it's 800 miles from north to south), you'll be spending much more time in your swimming costume than your coat.
Nevertheless, British buyers are beginning to come out of the woodwork. According to BNP Paribas International, one quarter of all 13,823 international buyers in France were from the UK. Most popular spots for Brits are Rhone-Alpes, Poitou-Charentes, Provence-Alpes-Cote d'Azur, Brittany and Languedoc-Roussillon. "In 2013, the average purchase price for a British buyer was 269,000 euros (£188,300)," says Trevor Leggett, chairman of Leggett Immobilier estate agents. "In 2014, this will have risen to 300,000 euros (£210,000), and in 2015, we think it will rise further still."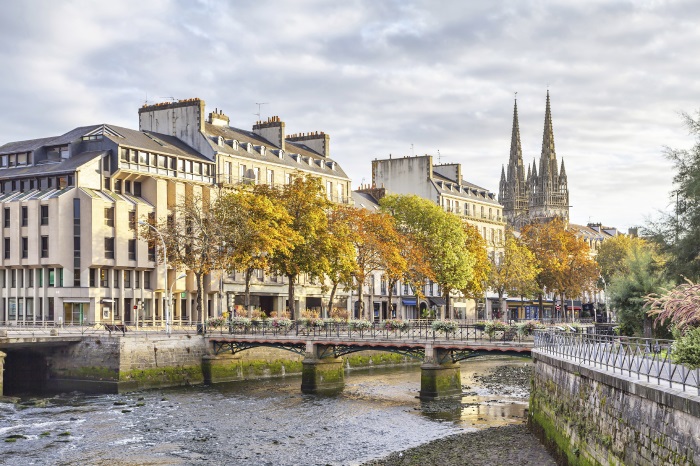 Brittany is one of the most popular spots for Brits to buy in France
Meanwhile, in the French Alps, developers are reporting savings of £55,000 on a £450,000 chalet.
And that's just the start of it. Inland, £275,000 can buy you an 11-or 13-bedroomed chateau in Normandy. And £317,000 gets you a seven-bedroomed mansion in the Auvergne.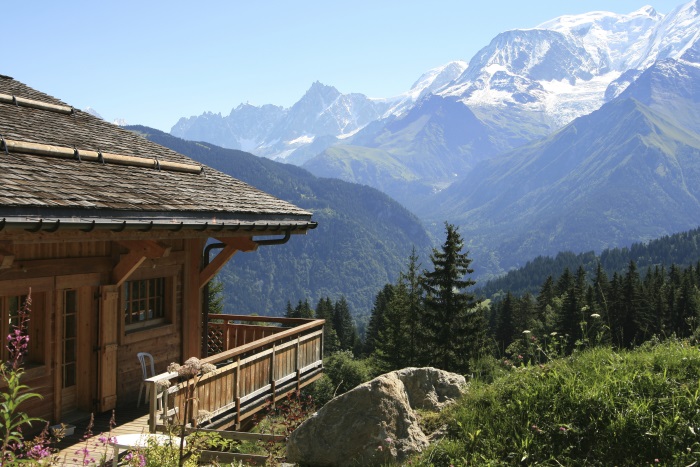 Developers are reporting savings of £55,000 on a £450,000 challet
And if you're looking for sun rather than snow or sea, one of the best bets is Gascony, in the south-west of the country (main airport Toulouse).
"There are three Easyjet flights there per day from Heathrow and Gatwick, and in summer the planes fly direct from Edinburgh," says local expert Ian Purslow, who has worked in the area as an estate agent for 25 years (www.purslows-gascony.com, 0033 562 67 61 50). "Also, a lot of the houses are built on high ground, with good views.
"Near the town of Mielan, you can buy a four-bedroom house with pool for £265,000, or a five-bedroom property with a pool for £275,000.
Alternatively, if you have a bit more money to spend, Savills suggest you look to the French Riviera.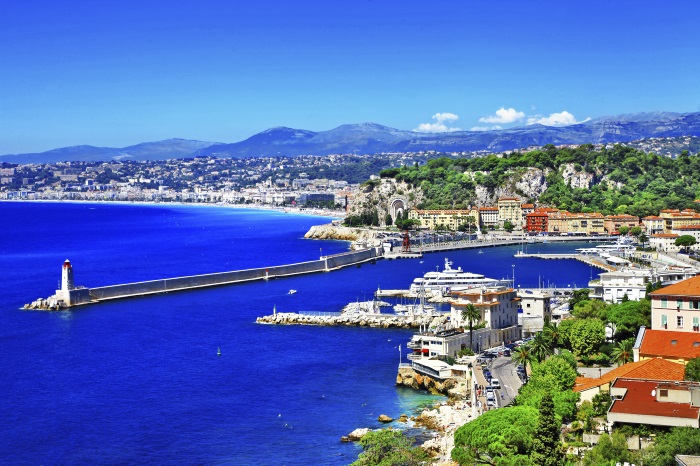 Suppressed prices, a weak euro and recent changes to taxation policy have made property in the region more appealing to foreign purchasers", concludes Savills' French Riviera Residential Market report. "On top of which, France's much-quoted 75 per cent income tax rate is not payable by those whose source of income is from another country".
If you just like the idea of living in the land of croissants and vin rouge, now might be a time to sniff out a property bargain.
Lot-et-Garonne
Not just one, but two houses in rural Laroque Timbaut, with 12 acres, heated pool and two barns. There's also an orchard, small vineyard, natural springs and it's only an hour's drive to Toulouse or Bergerac airport. Price £235,000 with Savills (020 7016 3740; www.savills.com).
Cap Benat
Nine-bedroom hideway, at pine-covered rocky point (Les Mimosas) on the Mediterranean coast, between Toulon and Frejus. Price: £4.53m. (020 7349 97772; www.aylesford.com).
Auvergne
A 17th century castle at Allier, with 10 bedrooms, 19th century tiled floor, wooden staircase, caretaker's lodge, swimming pool, pond, duck island and two barns. Price: £696,500. Groupe Mercure (020 7467 5330; www.groupe-mercure.fr).
Louplande, near Le Mans
Four-bedroom, high-ceilinged farmhouse, two bathrooms, vaulted cellar, just 50 minutes from Paris by high-speed TGV train £265,000 with Savills (020 7467 5330; www.groupe-mercure.fr).
Near Cannes
Top-of-the-range mansion at Mougins, with six-bedrooms, all en-suite, plus private cinema, pool, sauna in basement, and only a 16-mile drive to Nice Airport. Price: £890,400. Groupe Mercure (020 7016 3740; www.savills.com).
Provence
A 17th century coaching inn within the village of Le Paradou, with nine bedrooms, nine bathrooms, stone-vaulted ceilings and a swimming pool. All standing at the foot of the Alpilles Hills. It might even be possible to convert into a small hotel. £2.02m. Agents: Aylesford International (020 7349 9772; www.aylesford.com).
Haute-Savoie
Five-bedroom chalet, two bathrooms, in the middle of ski country. £458,500. Groupe Mercure (020 7467 5330; www.groupe-mercure.fr).
St Tropez
The stylish Riviera 1930 building is being converted into eight up-market properties, just a few minutes' walk from the harbour. Prices from £605,000 for a one-bedroom apartment to £2.6 million for a penthouse. Erna Low Property (020 7590 1624; www.ernalowproperty.co.uk).
Maine et Loire
Ivy-covered 19th century house at Chateauneuf Sur Sarthe, in Loire Valley, with 10 bedrooms on various floors, plus pool, artist's studio and tree-lined garden for £322,000 (020 7016 3740 www.savills.com).
* Thinking about moving to France?  Download our guide now, covering French legal matters, taxation, retirement and currency exchange.