© A CURRENT AFFAIR/9NEWS.COM.AU
A Sydney householder last week took a phone call from a friend who told him there were bulldozers in his garden, knocking down his house.
Businessman Steve Ballas said: "I was sitting there, working away, and I got a call from one of my mates and he said, 'They're demolishing your house'. I thought he was joking at first."
Mr Ballas raced around to the address in Marion Street, Bankstown, in south-west Sydney, and found a demolition team levelling his three-bedroom bungalow. He called the police, who stopped the work, but by that time there was only one wall left standing.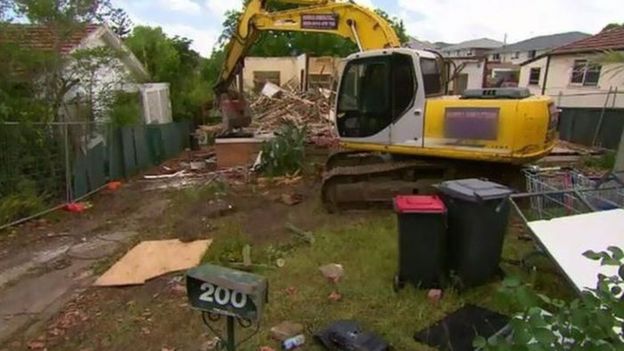 ©A CURRENT AFFAIR/9NEWS.COM.AU
Mr Ballas' house has a letterbox on the driveway which reads number 200. In fact, his house is number 198.
Workers at the local demolition firm had been told to tear down number 200, which had planning permission for a replacement dwelling.
The number outside that house was obscured. But Mr Ballas told local news programme A Current Affair that he thought his house was number 200. He had owned it for a number of years, but he didn't live in it. He had been doing it up and was planning to let it out.
"No one lives in the house, which is lucky," said a neighbour who witnessed the whole drama.
The council said that Mr Ballas' property was positioned between numbers 196 and 200. It is looking into how the confusion had arisen.
Meanwhile, Mr Ballas said he had spoken to the owner of the demolition firm. "Poor bloke. He was speechless," he said. "It was an honest mistake."
Daniel's Demolitions is owned by Daniel Mandarano. He is reported to have been very upset by the mistake. He said he had not met the person whose house was supposed to have been demolished and the job had been arranged by email, but he said that was not unusual. He had been paid some of the fee up front.
Mr Ballas said he hopes that the insurers will pay out for the damage to his house. He will either rebuild the property himself, or sell the site on for development.
"There's nothing you can do. No-one was hurt. This is going to be a thing we laugh at one day," he added. "The house was just a little nest egg that I bought for my son."